Services
Design
Working always to the client's brief, Westport Grey offer Planning, Architectural, Structural Engineering Services, Engineering and Landscape Design Services.
Construction
Either following on from our own design experts, or working with your design team, Westport Grey offer a full procurement and construction service for major residential projects.
Our sites are always tidy and professionally managed, our tradesmen are skilled and familiar with working on high specification projects.
We operate a fully integrated construction costing and planning software package which ensures that we are always up to date with project costs and progress.
We believe that strong IT systems are crucial to successful modern businesses. Our staff are always available by mobile phone and email.
Management
For the hands-on client, we can offer a project management service that starts with the planning process and finishes with the landscape contractor. We will manage all of the individual trades contractors and suppliers on your behalf. This can be a very cost effective solution for a major project.
Alternatively, we can project manage your chosen full service builder and Architect. 25 years experience in the construction industry ensures that projects are completed on budget, in time and to your complete satisfaction.
Project management service are all individually tailored to our clients requirements and the needs of the project. Our success comes through regular project meetings and ensuring good communication between all parties.
Development
Westport Grey can also work with selected partners on certain development projects. If you are planning a new development we take the time to understand your needs and create the home of your dreams. All new developments are covered by a 10 year N. H. B. C. guarantee.

Recent Projects
Our attention to detail and focus on quality can be seen by looking through some of our recent construction projects.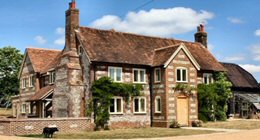 See examples of some of our more recent projects...